Online Store
About Paws of Enchantment
Aromatherapy
Dog Grooming
Grooming Services Overview
Hand Stripping
Luxury Shampoos
Our Pet Grooming Products
Our Philosophy
Our Policies
Owner Participation
Paw Massage - Foot Soaks
Pet Facial Treatments
Pet Grooming Services
Premium Holistic Packages
REIKI - Energy Healing
Restoration of Coat
Salukis
1 to 10 of 18 Salukis Items
Page 1 of 2
---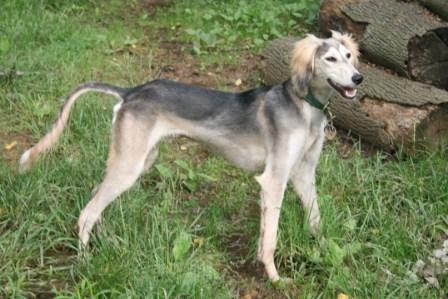 Raja, 6 months
Raja at six months old
---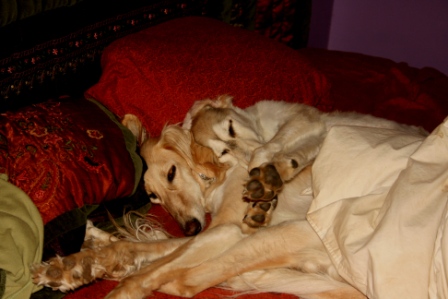 Baby Raja and Talia
Talia pretended Raja was either invisible or contaminated when he first came to live with us but he was fascinated with her and, from the very beginning, would try to curl up close to her to sleep!
---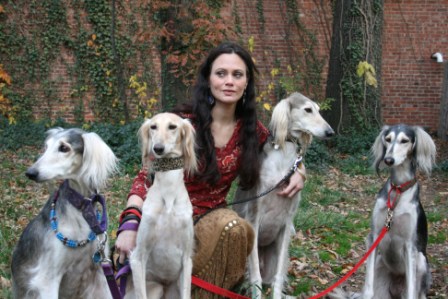 My Saluki Family
Pictured is my beloved Saluki family, who have taught me much about the depths of unconditional love, of spirituality, of beauty, of selflessness and of enchantment. M
---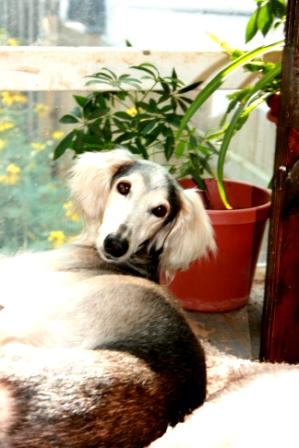 Naflah
Naflah is a mystical being...her gentle presence is known and appreciated by all; she is a healer, a mother, a teacher, and an example to live one's life by.

I give my thanks for being able to share my life and home with this highly spiritually evolved, sensitive being. I consider this a great blessing.
---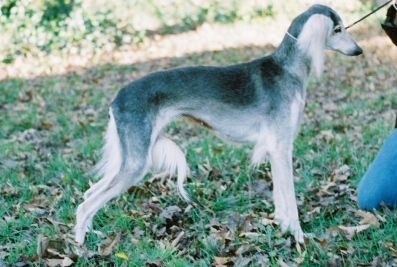 Naflah
Naflah is the dainty and magical being who has been with me almost as long as I have been in the Maryland/DC area. She knows all my secrets and has seen me through the good and the bad. In 2001, she gifted me with one of the most important treasures of my life, which changed my life: seven beautiful puppies. Three of these enchanted beings I kept-- Tammuz, Talia and Sultana-- and they are undoubtably the reason I am still here in this area with a business and home and not off doing the ''nomad thing''. They have had amazing influence on my life and have directed me towards holistic living, healing and philosophy. And special Naflah is the Queen Mother of them all... quiet and observant, the master of all of those teachings...

Naflah has served the greater community by visiting with the elderly in a senior center; participating in a Healing Touch workshop as a healer; performed on stage at the Kennedy Center in the Silk Road Dance Company's production of Egypta; and most importantly, in the everyday, passing along her teachings about life and the true value of things, to almost everyone she meets.

Her essence is that of quiet and humble teaching, healing and listening through stillness, and that of magic. She is Enchantment.
---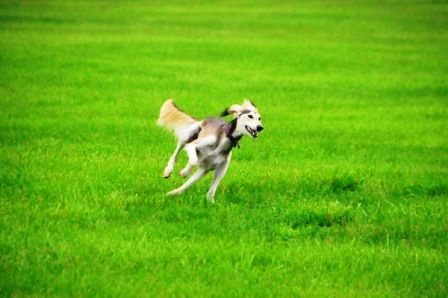 Raja loves to run
Samarah's ''big brother'', Raja (Feliice Holiday Hopes)loves to run, too... we plan more of this kind of activity for our handsome young man! Raja's favorite pasttimes include licking peoples' feet and hands, running, digging trenches, playing with Samarah, and playing in general. He is extremely good natured, sensitive, considerate and smart... a really nice guy to have around the house and shop!
---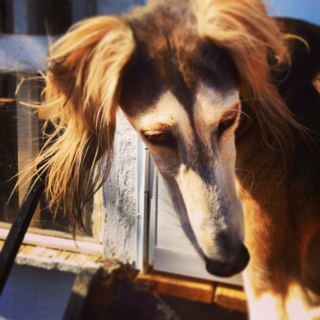 Raja the Handsome
Raja, our handsome friend, at five years old.
---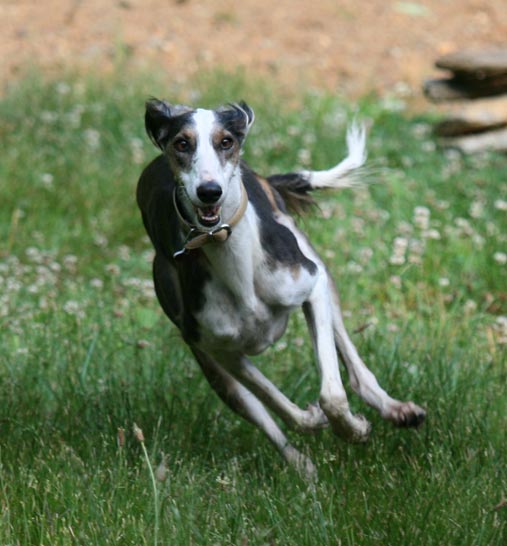 Saluki Information
Below are some Saluki links.
Pictured is our Samarah's lovely mother, ''Mish Mish'' (Mamnouna's Mish Mish).



Saluki.org

El Riyah Salukis













---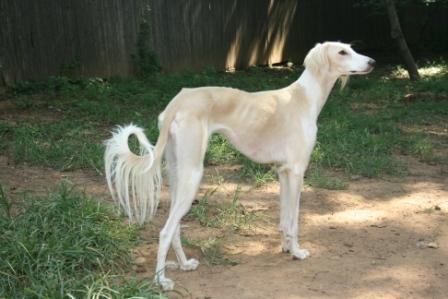 Samarah
The enchanted being Samarah, pictured at 1 1/2 years of age
---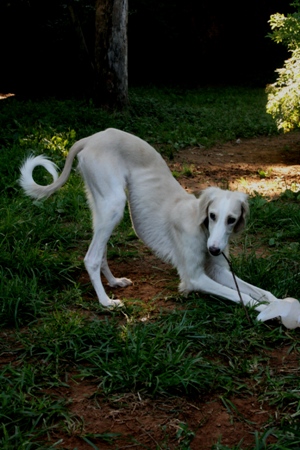 Samarah
...and Samarah is very demure with her stick.
---
Online Store
About Paws of Enchantment
Aromatherapy
Dog Grooming
Grooming Services Overview
Hand Stripping
Luxury Shampoos
Our Pet Grooming Products
Our Philosophy
Our Policies
Owner Participation
Paw Massage - Foot Soaks
Pet Facial Treatments
Pet Grooming Services
Premium Holistic Packages
REIKI - Energy Healing
Restoration of Coat